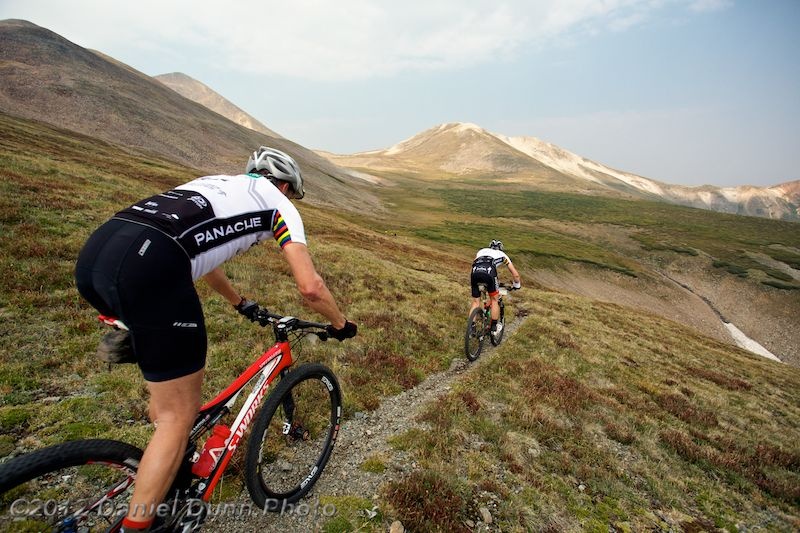 Photo cred:
http://www.danieldunnphoto.com/
The Wheeler Pass stage of the Breck Epic doesn't showcase the most pristine singletrack of the six day race, but there is something awesome about it. It's a simple layout — you ride and hike-a-bike up and over Wheeler Pass, get confronted with some of the most gorgeous views you have ever seen in your life, you descend Wheeler at break neck (or in my
case rib
) speed, take a right onto a bike path for a few miles, and then ride the Peaks Trail back to Breckenridge and you're done. Wheeler is rad. It is way too fast and the corners are way too loose and if you over-shoot one you will be way too dead. When you get to the bottom you need to have someone smash you in the face with a shovel to remove the insane grin that's plastered on it.
The Peaks Trail isn't for everyone, you could drive a four wheel drive bus down it, but where a singletrack might have one awesome line, the Peaks Trail has three or four. It's a choose your own shred-venture trail. Some moron once said that the Peaks Trail "
rolls gently back toward Breckenridge
." Yeah, it rolls like a bowling ball on a water bed.
My plan was to get an hour head start on the race and spin up to the top of Peak 9 Road to get a jump on the leaders as they began the Wheeler descent. I'm not too good at math so I rode up Peak 8 instead, or tried to. Don't ride up Peak 8, it's bad. Not like Peak 9 is easy, but Peak 8 is like Peak 9's belligerent older brother who whips your legs with a fishing rod then puts you in a sleeping bag upside down, lifts you off the floor and begins to twist the end tighter until your face is pressed against the bottom, your arms are wrapped around your head like a meat pretzel, and you're all sweaty and screaming "I CAN'T BREATHE!" and belligerent older brother replies, quite logically actually, "If you can't breathe then you can't scream."
So I rode a ways up Peak 8, like for about forty-five minutes, until I ran into a Breckenridge ski area worker on a quad. "Oh dude, you are NOT on Peak 9, and it sucks, but y'know what? You gotta go
down
to get there. But first you gotta ride up to that access road there (points several hundred yards up the hill) and take a left."
At that point there was no way I was going to make it in time, I was crawling up Peak 9 like sucking at climbing was my job. Two years ago at this race, I did that climb in my big ring. Yeah it was my pretend 39 X 36 big ring but still, I was in a much better place back then. My self-loathing fest was interrupted by the sound of a Toyota pick up barreling up the access road behind me.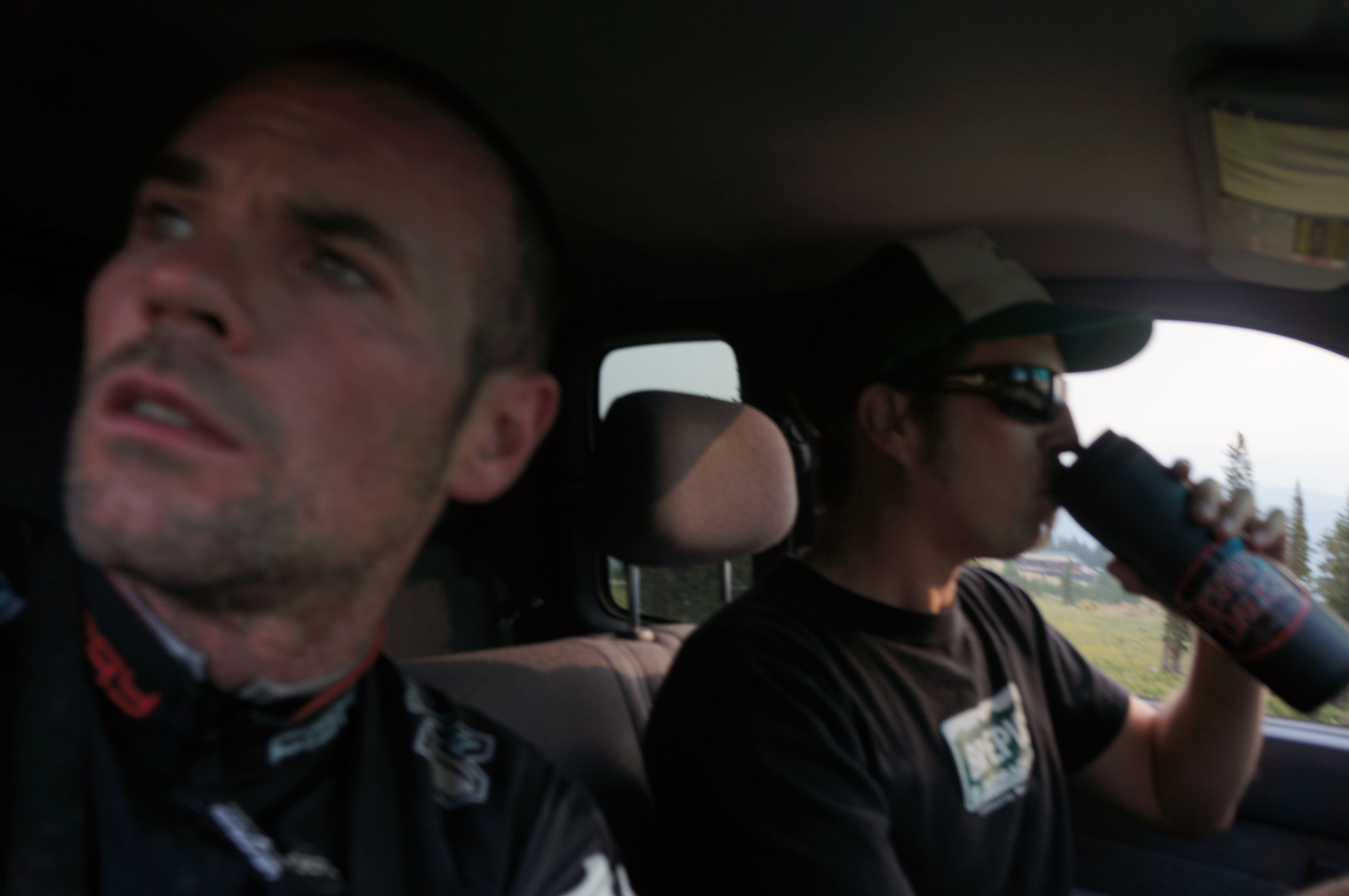 It was
Eddie Clark
, pro photo guy from Mountain Flyer. He picked me up and whisked me to the top of Peak 9, right to the Wheeler traverse. Man that is a fun traverse, and it's made all the more fun by the fact that it's at 12,000 feet, you're borderline hypoxic, and you feel like you've just come from the dentist's office. It's not terrible technical, it's just a simple singletrack, but if you deviate at all from the path...you're going for a bounce that'll end with a thud and a crunch.
I made it to the top well before the leaders and set up to get my shots.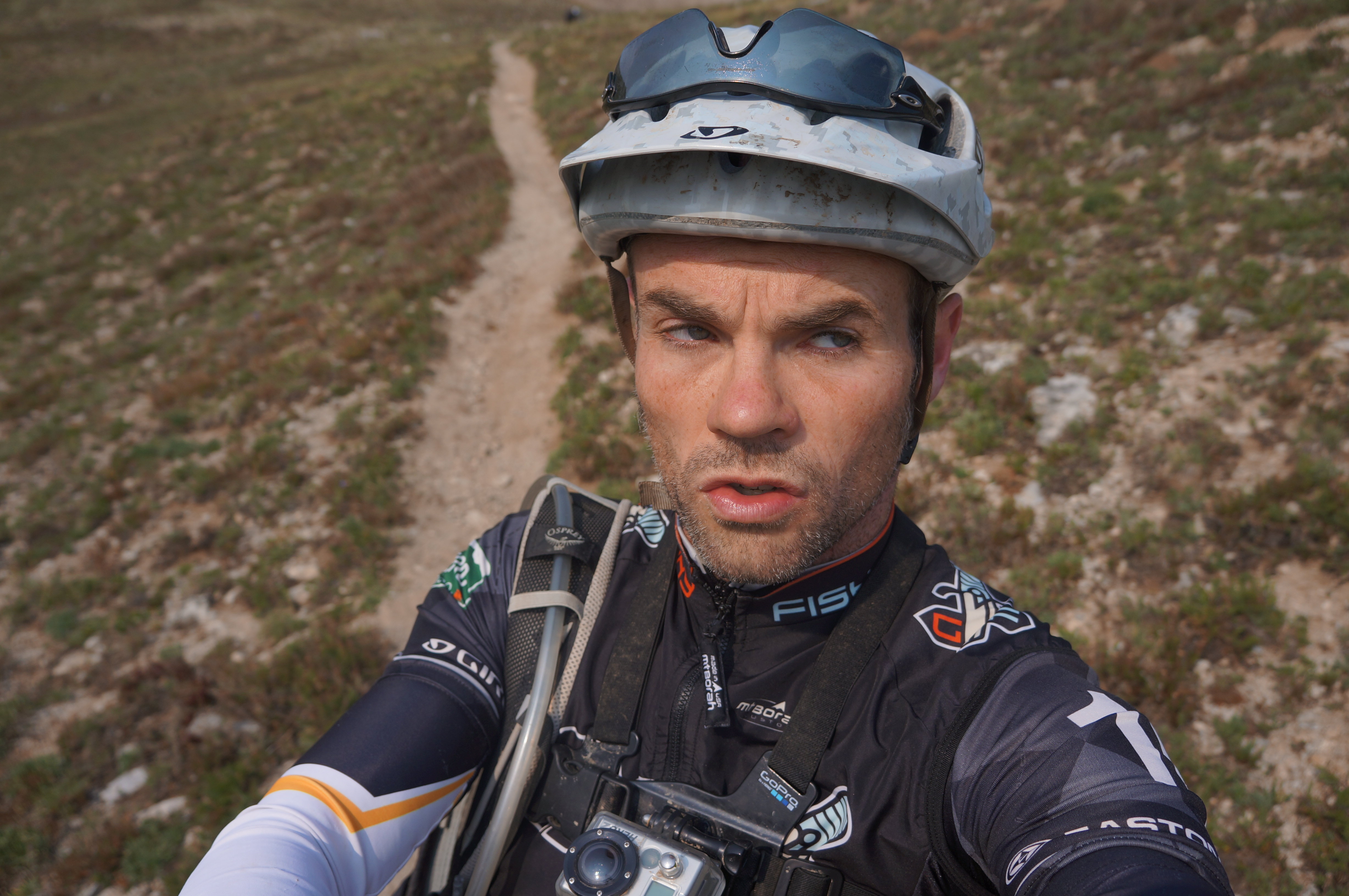 Wow, that's a good one aye?
Shortly after I arrived a couple wicked pro photo dudes showed up and started cooking bacon. You could smell it for miles.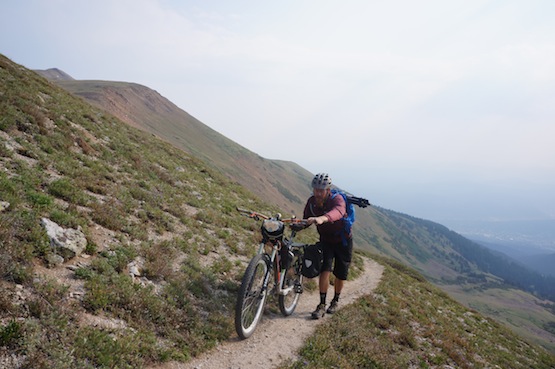 And this what I saw of the race...
In the
Open Men's
race Matthys Beukes the Squirt Lube rider from South Africa
came over the top of Wheeler first
. He was working too hard to eat bacon. He was followed by his teammate Ben Melt Swanepoel who did eat bacon. He later said that it made his fingers all slippery and every time he ate a gel it smelled of bacon. Not a bad thing if you ask me. Ben Melt is sitting second in the G.C. and he had a large gap on first place overall Ben Sonntag. Sonntag came across with Ross Schnell and Josh tostado. Sonntag began the descent first while Josh and Ross sat up to eat some bacon (this was all caught on video). Schnell blasted by Sonntag and did his Rad Ross thing, flying down Wheeler like it's his job to not suck at descending.
Sonntag encountered a downed tree and tried to go under it while Tostado went up and around it. Tostado then picked up the pace to the bottom of Wheeler. The two riders were able to catch Schnell on the bike path leading to Frisco, but Schnell rallied through Peaks Trail, dropping his chasers. Sonntag would get the better of Tostado by the end of the rolling, technical mess that is the Peaks Trail.
Swanepoel took almost five minutes out of Sonntag's ten minute G.C. lead and Beukes took his second stage win. It'll be interesting going into tomorrow's Boreas/Gold Dust stage. A guy who's down five minutes on the G.C. with one of the strongest guys in the race as his teammate might be able to do something on the wide open and windy Boreas Pass climb.
Amanda Carey dominated the
Women's Race
, putting more time into South African Yolandi Du Toit. Du Toit seemed out of her element on the steep and protracted Wheeler descent. Carey now has over a twenty minute lead going into the sixth and final stage tomorrow.
The
Singlespeed Stage Race World Championships
overall leadership saw no change. Brady Kappius came across the line slightly ahead of G.C. leader Macky Franklin. Franklin holds a five minute lead on Kappius. Traditionally the final day of a singlespeed stage race is beer-fueled parade lap, all riders south of Kappius in the G.C. who were in attendance at the singlespeed dinner at Lucha's seemed to agree to uphold this tradition. Neither of Kappius not Franklin were in attendance so it's anybody's guess as to whether they will choose to battle it out on Boreas or shred Gold Dust and slam some PBRs.
The
singlespeed women's race
saw a major upset today with Andrea Wilson who has basically (and I can say this because she's my Breck Epic roommate) had her ass handed to her all week by Jennifer Wilson. Wilson is up over an hour in the G.C...Jennifer, not Andrea. Man this is confusing. Jennifer said she didn't have a bad day, Andrea just had a really good day. At one point the two singlespeeders even caught the Open Women, overcoming a deficit due to the staggered start this morning.
The heated battle in the
Men's Duo
category comes to a head tomorrow. Peter Keiler and Rich Dillen are about a work day down on Blake Harlan and Bryan Alders. Keiller vowed, in his thick Quebecois accent, to give Harlan a "special beer, something like a La Fin Du Monde, but with more roofies in it," that will knock him out cold, allowing Keiller and Dillen to win not only the stage but the general classification. Asked what he would do with a passed out Blake Harlan, Rich Dillen replied "What do you think? I mean, that dude is
Tiger Beat
hot. If I had a choice of taking a romantic hot air balloon ride with Justin Bieber or Blake Harlan, I would choose Blake Harlan hands down, every time."
And that's how the race unfolded.
Just you wait for the Stage 7 report. Just you wait.
Check out the Breck Epic stage 5
highlights video
.
Solo Open Men
1 Matthys Beukes 2:20:53
2 Benmelt Swanepoel 0:00:52
3 Ross Schnell 0:05:50
4 Ben Sonntag 0:06:14
5 Josh tostado 0:07:34
6 Jake Wells 0:09:53
7 Nick Truitt 0:10:18
8 Rotem Ishay 0:11:20
9 Ezekiel Hersh 0:17:20
10 Ryan Clark 0:18:59
11 Peter Watson 0:20:15
12 Shawn Bunnin 0:21:50
13 Sloane Anderson 0:22:05
14 Nathan Brown 0:24:35
15 Calle Friberg 0:25:07
16 Matt Woodruff 0:25:21
17 Erik Bakke 0:29:38
18 Colby Pearce 0:30:42
19 Taylor Lideen 0:32:26
20 Vandendaele Thomas 0:39:46
21 Logan Vonbokel 0:47:28
22 Brent Steinberg 0:48:12
23 Warren Stephenson 1:24:32
24 Derek Oldfield 1:46:38
25 Alex Tibwitta 2:25:20
Solo Open Women
1 Amanda Carey 3:02:01
2 Yolandi Du Toit 0:13:21
3 Ciara Macmanus 0:42:41
4 Laura Gleason 1:02:14
5 Stephanie Wilkinson 1:14:02
6 Cindy Bonhage 1:28:10
Solo Singlespeed Men
1 Brady Kappius 2:34:31
2 Macky Franklin 0:00:01
3 Dax Massey 0:07:07
4 Michael Melley 0:13:32
5 Vince Anderson 0:14:20
6 Dan Durland 0:16:45
7 Scott Upton 0:27:08
8 Donald Powers 0:27:46
9 Hayes Charlie 0:32:19
10 Montana Miller 0:35:14
11 Eric Davis 0:35:37
12 Ian Palermo 0:38:23
13 Dean Cahow 0:41:15
14 Aaron Shelmire 0:57:02
15 Rob Lochner 1:04:03
16 John Odle 1:09:51
17 Jeremy Palermo 1:15:26
18 Nate Miller 1:18:28
19 Birtch Dejay 1:18:31
Solo Singlespeed Women
1 Andrea Wilson 3:07:54
2 Jennifer Wilson 0:11:16
3 Sarah Musick 0:49:55
4 Melissa Liebling 1:11:48
Solo 30 Men
1 Johannes Huseby 2:46:55
2 Ian Mills 0:07:30
3 James Meyer 0:08:43
4 John Heffner 0:23:08
5 Amit Dutta 0:32:39
6 Joshua Roeser 0:38:08
7 Andrew Jauquet 0:45:54
8 Philip Thompson 0:55:31
9 Wu Jeff 1:06:10
Solo 40 Men
1 Jeff Cospolich 2:56:56
2 Shawn Lortie 0:00:12
3 Ken Thorp 0:03:49
4 Mike Driver 0:11:27
5 Stephen Ushy 0:13:24
6 Michael Quinn 0:18:54
7 Jason Sumner 0:19:00
8 Brian Neyt 0:25:46
9 Chris Mckillican 0:28:20
10 Charles Gauvin 0:30:26
11 David Mccormick 0:40:41
12 Brad Shield 0:49:24
13 Tom Boo 0:49:58
14 Chris Castilian 0:55:35
15 Lennie Moon 1:04:15
16 Joel Doctor 1:12:17
17 John Arguello 1:13:45
18 Moishe Lettvin 1:26:15
19 Craig Mcghee 1:31:56
20 Ty Garber 1:33:02
21 Farhy Nolan 2:04:16
Solo 50 Men
1 Russell Kappius 2:54:53
2 Frost Jeffery 0:08:17
3 Bruce Wilson 0:17:54
4 Mike Kane 0:36:32
5 Rick Metzger 1:01:24
6 Stan Mayer 1:08:05
7 Carl Gable 1:09:13
8 Mark Halwa 1:10:38
9 Michael Bowen 1:16:17
10 Brooks Dean 1:27:56
11 Stephen Ostrander 1:34:29
12 Lindsay Gauld 1:49:39
Solo Clydesdale
1 Kreidl Ken 3:49:29
Solo 40 Women
1 Tina Martinez 3:32:24
2 Julie Kelly 0:01:32
3 Laureen Coffelt 0:14:02
4 Julie Urlaub 0:41:42
5 Lori Halwa 0:55:11
6 Mindi Hoffmaster 1:15:12
Duo Open Men
1 Blake Harlan & Bryan Alders 2:35:06
2 Rich Dillen & Peter Keiller 1:16:55
Duo Men 80+
1 Kervin Quinones & Michael Trimble 2:56:49
2 Tim Brezsnyak & Michael Piker 0:00:07
3 Mike Hogan & Thomas Dooley 0:00:41
4 Jason Morgan & Russell Henderson 0:05:32
5 Scott Baca & Sean Fay 0:30:25
Duo Men 100+
1 Russ Asleson & Mark Gourge 3:24:39
2 David Reed & John Pougiales 0:23:26
3 Joso Dias Da Chunha & Jorg Damas 0:29:07
Duo Women
1 Mary Davis & Rebecca Bruno 4:26:56
2 Carthy Chan & Linda Green 0:17:29
Duo Coed
1 John Bliss & Michele Bliss 3:48:58
2 Elden Nelson & Lisa Nelson 0:17:31
3 Karen Rishel & Alan Rishel 0:24:14
Team Challenge
1 1-Speed Willas Wheels 3:02:04
2 Got Gears Willas Wheels 0:36:26
Gran Fondo
1 Mike Blewitt 3:03:39
2 Karen Jarchow
3 Bradley Schmalzer 0:09:39
4 Chris Bryce 0:45:25
5 Terrence Gleason 2:28:19
6 Pete Biedenharn 2:55:34
7 Rick Foutch 2:56:16
Solo Open Men general classification after stage 5
1 Ben Sonntag 15:51:25
2 Benmelt Swanepoel 0:05:58
3 Matthys Beukes 0:17:47
4 Tostado Josh 0:29:41
5 Rotem Ishay 0:43:16
6 Nick Truitt 0:44:27
7 Calle Friberg 0:48:35
8 Ryan Clark 1:20:12
9 Ezekiel Hersh 1:30:22
10 Sloane Anderson 1:36:30
11 Jake Wells 1:42:53
12 Shawn Bunnin 1:54:58
13 Nathan Brown 2:15:58
14 Peter Watson 2:19:06
15 Ross Schnell 2:36:46
16 Matt Woodruff 2:38:06
17 Vandendaele Thomas 3:13:53
18 Colby Pearce 3:15:49
19 Taylor Lideen 3:40:07
20 Brent Steinberg 4:24:07
21 Logan Vonbokel 5:14:24
22 Erik Bakke 5:41:21
23 Derek Oldfield 9:06:59
24 Warren Stephenson 9:40:58
25 Alex Tibwitta 13:51:30
Solo Open Women general classification after stage 5
1 Amanda Carey 19:47:59
2 Yolandi Du Toit 0:23:48
3 Ciara Macmanus 3:21:09
4 Laura Gleason 8:21:15
5 Stephanie Wilkinson 9:08:41
6 Cindy Bonhage 9:18:01
Solo Singlespeed Men general classification after stage 5
1 Macky Franklin 16:57:58
2 Brady Kappius 0:04:51
3 Dax Massey 0:43:33
4 Michael Melley 1:22:24
5 Vince Anderson 1:42:54
6 Dan Durland 1:49:11
7 Hayes Charlie 2:48:42
8 Nate Miller 3:01:14
9 Montana Miller 3:34:32
10 Eric Davis 3:51:50
11 Scott Upton 3:57:33
12 Donald Powers 3:58:46
13 Dean Cahow 4:39:36
14 Birtch Dejay 5:24:54
15 Aaron Shelmire 5:26:28
16 Ian Palermo 5:49:33
17 Rob Lochner 6:44:09
18 John Odle 7:18:33
19 Jeremy Palermo 7:50:28
Solo Singlespeed Women general classification after stage 5
1 Jennifer Wilson 21:28:53
2 Andrea Wilson 1:34:42
3 Sarah Musick 4:31:41
4 Melissa Liebling 5:59:22
Solo 30 Men general classification after stage 5
1 James Meyer 17:57:21
2 Johannes Huseby 0:53:26
3 Ian Mills 1:25:52
4 John Heffner 2:48:58
5 Amit Dutta 4:05:33
6 Joshua Roeser 5:05:30
7 Andrew Jauquet 5:53:33
8 Wu Jeff 6:59:37
9 Philip Thompson 8:35:56
Solo 40 Men general classification after stage 5
1 Jeff Cospolich 19:18:13
2 Mike Driver 0:59:34
3 Ken Thorp 1:13:11
4 Stephen Ushy 1:22:06
5 Shawn Lortie 1:46:59
6 Jason Sumner 2:18:36
7 Michael Quinn 2:19:32
8 Charles Gauvin 3:26:09
9 Tom Boo 4:46:14
10 Brian Neyt 4:53:20
11 Chris Mckillican 5:19:19
12 Brad Shield 5:21:47
13 Lennie Moon 5:29:05
14 Chris Castilian 5:56:25
15 David Mccormick 6:01:23
16 Craig Mcghee 8:10:34
17 Joel Doctor 8:36:50
18 Farhy Nolan 9:22:13
19 John Arguello 9:22:41
20 Ty Garber 9:47:11
21 Moishe Lettvin 10:57:33
Solo 50 Men general classification after stage 5
1 Russell Kappius 18:33:09
2 Frost Jeffery 1:46:22
3 Bruce Wilson 2:24:18
4 Mike Kane 3:29:25
5 Rick Metzger 6:01:41
6 Carl Gable 7:13:18
7 Stan Mayer 8:08:18
8 Mark Halwa 9:33:09
9 Lindsay Gauld 10:24:04
10 Michael Bowen 10:44:09
11 Brooks Dean 11:41:49
12 Stephen Ostrander 12:25:58
Solo Clydesdale general classification after stage 5
1 Kreidl Ken 24:00:17
Solo 40 Women general classification after stage 5
1 Tina Martinez 23:22:07
2 Julie Kelly 0:15:32
3 Laureen Coffelt 0:43:40
4 Julie Urlaub 5:28:47
5 Lori Halwa 5:42:12
6 Mindi Hoffmaster 6:44:59
Duo Open Men general classification after stage 5
1 Blake Harlan & Bryan Alders 17:14:03
2 Rich Dillen & Peter Keiller 8:23:31
Duo Men 80+ general classification after stage 5
1 Mike Hogan & Thomas Dooley 19:22:09
2 Kervin Quinones & Michael Trimble 0:11:26
3 Tim Brezsnyak & Michael Piker 0:28:34
4 Jason Morgan & Russell Henderson 1:14:16
5 Scott Baca & Sean Fay 2:55:01
Duo Men 100+ general classification after stage 5
1 Russ Asleson & Mark Gourge 22:07:34
2 David Reed & John Pougiales 3:26:32
3 Joso Dias Da Chunha & Jorg Damas 3:45:52
Duo Women general classification after stage 5
1 Carthy Chan & Linda Green 29:03:22
2 Mary Davis & Rebecca Bruno 0:01:56
Duo Coed general classification after stage 5
1 Karen Rishel & Alan Rishel 25:25:51
2 John Bliss & Michele Bliss 0:53:35
3 Elden Nelson & Lisa Nelson 2:13:23
Team Challenge general classification after stage 5
1 1-Speed Willas Wheels 21:15:22
2 Got Gears Willas Wheels 7:46:03
Updated on May 6, 2013, 2:02pm