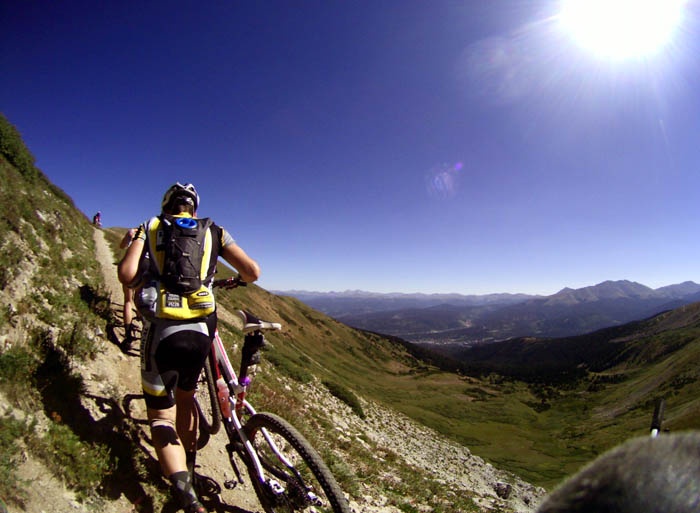 This is your chance to rip some of the world's best singletrack and participate in one of the toughest races in the country. The Breck Epic is known for amazing trails, tons of climbing, and more suffering than you can dream of! In an effort to raise money and awareness for the Colorado High School Mountain Bike League and Summit County MTB Junior League the Breck Epic has put a FREE entry up for grabs in a drawing! Click here and make a suggested donation of $10 or more. All proceeds go to these organizations. On August 26, 2012 the drawing ends, and shortly after one lucky winner will be drawn at random to receive a free entry to the 2013 Breck-Epic!

Enter for your chance to win here: http://form.jotformpro.com/form/22196519976973

Stay tuned to CyclingDirt all week for complete daily video coverage from the 2012 Breck-Epic!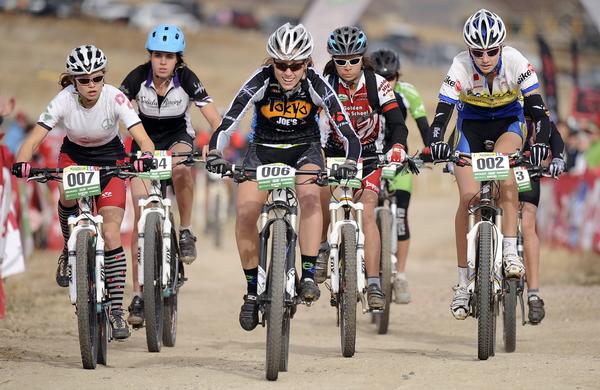 ABOUT COLORADO HIGH SCHOOL MOUNTAIN BIKE LEAGUE

In 2009, the National Interscholastic Cycling Association (NICA) was founded as the national governing body for grades 9-12 inter-scholastic cross-country mountain biking. NICA oversees and supports affiliated chapter leagues within specific geographic regions across the US. NICA launched the coast-to-coast movement, starting with Colorado in 2009. As of 2011, NICA leagues are established in SoCal, Colorado, Washington, Texas, and Minnesota.

NICA evolved from the NorCal series, established in 2000, mountain bikers from schools all over Northern California answered the call and gathered to compete as semi-organized, high school teams. Now the NorCal League includes more than 40 schools and offers well organized mountain bike programs that actively participate in the NorCal League which operates much like other after school athletic programs.

The Colorado High School Cycling League was formed in 2009. The inaugural race series was in the fall of 2010 with 183 student athletes participating representing 20 teams from throughout the state and southern Wyoming. The Colorado League participation grew in 2011 to 325 student athletes from 33 teams. We provide a well defined race season for junior racers and that promotes the formation of teams at public and private high schools. With the cooperation of local race promoters and our sponsors we put together a first class series of races designed for high school aged riders. A primary focus of the League is to provide a fun and easy way to involve juniors in the challenging and exciting world of competitive cycling.

The Colorado season includes a four race series in the fall with late summer riding camps. The primary focus is to deliver a fantastic curriculum of mountain biking skills, where leadership and camaraderie are fostered. The League actively helps the formation of new high school teams throughout the state. We also welcome participation from neighboring states.

The League is an exceptional way for high school students to explore the sport. Often League racers participate in collegiate cycling and national and international competition. Several League alumni athletes from our sister league in NorCal are now racing on professional teams.



ABOUT BRECK-EPIC

The Greenspeed Project is a loosely organized group of backcountry athletes, collectively possessing copious amounts nearly worthless knowledge. We are ditch-diggers, ski tuners, latte-makers and shit-shovelers. Despite our humble backgrounds, what we do have is a united love of outdoor sport and of the vast, yet vulnerable open spaces that surround our community.

We are hikers. We are mountain bikers. We are skiers, snowboarders, Nordic skiers and motorcyclists. We downhill and we ride XC. We are roadies and yeah, a few of us even have a horse or two in the barn. Is there a world-class athlete or two toiling away in obscurity under our masthead? Yeah, there might be, rabbit. But mostly we're just average Joes (& Jills!) who enjoy a good ride as much as a race. Some of us are jocks. All of us are fans.

Dangerously armed with the random tidbits of experience one collects in a decade or three in the mountains, we put our minds to the task of integrating our individually worthless, yet collectively powerful mish-mash of abilities. Our intent? To create a meaningful and relevant way to lend a hand to the very thing that so enriches all of our lives; the great outdoors.

Blessed (cursed?) with a relatively useless skill set, It became obvious that while our skills wouldn't help us much in the way of selling, buying or processing anything (thank you, Lloyd Dobbler) by virtue of our experience, we could craft ambitious events held here in Summit County's backcountry, events whose only limitations were our imaginations and our willingness to roll up our sleeves.

It's a given that we're dreamers – we're all ski bums, right? And I mentioned that we're ditch-diggers already, right? Thus possessing both the requisite intangibles and a sheltering optimism, The Greenspeed Project was born in the fall of 2008. We produce kick-ass backcountry events for skiers and riders. And we use the bread we make to underwrite improvements and maintenance in our lovely and sprawling backyard.

Wanna know what our events are all about? Start thinking about why your dog hangs its head out of your car window – that's as good a place as any to start. And if you still don't get it, well, you know the old expression, "if you have to ask…"