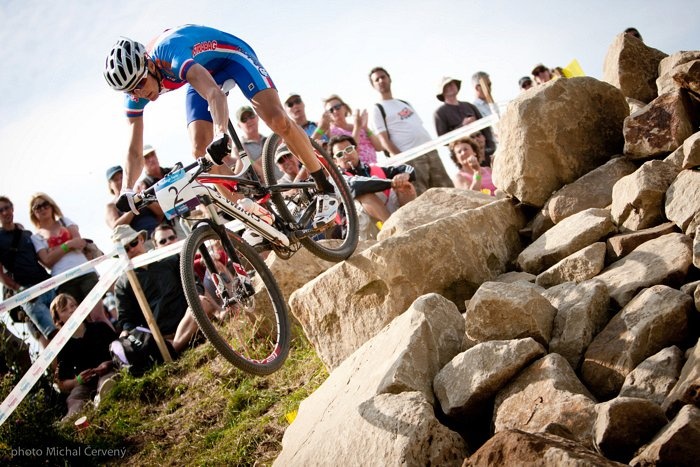 Jaroslav Kulhavy was the fastest mountain biker on the planet today at the Olympic Games in the UK. The current World Champion outkicked the 2012 World Cup winner Nino Schurter in the final meters. The two lept away from Italy's Marco Fantana on the final climb. The three had been riding together as a trio for most of the race, with Schurter putting in a number of attackes that did not stick. Two time defending Olympic Champion from france, Julien Absalon, was knocked out of contention on lap one with a mechanical.
A strong chase group stayed close to the leaders most of the day, with South Africa's Burry Stander and Spain's Jose Antonio Ramos able to bride across for a short time. The two ended the day in a sprint for 4th, with the Ramos getting the edge.
Canada suffered a big blow in the opening minute with National Champion Max Plaxton hitting the deck in the the first turn after the start. He worked his way back into the 30's before pulling out after the mid way point in the race. Plaxton was Canada's best hope for a medal in the men's race.
The other three North American men faired much better, with all three finishing in the top 15. Canada's Geoff Kabush led the way with a season best ride for 8th place, only 1:36 behind the blistering pace set by the winner. USA's Todd Wells and Sam Schultz used a strong start to settle into the day's main chase group. Wells put in a huge effort mid-way to close to the leaders, working his way as high as 7th, 20 seconds behind the front group. He dropped back with a lap to go, holding off France's Stephane Tempier for the last spot in the top 10.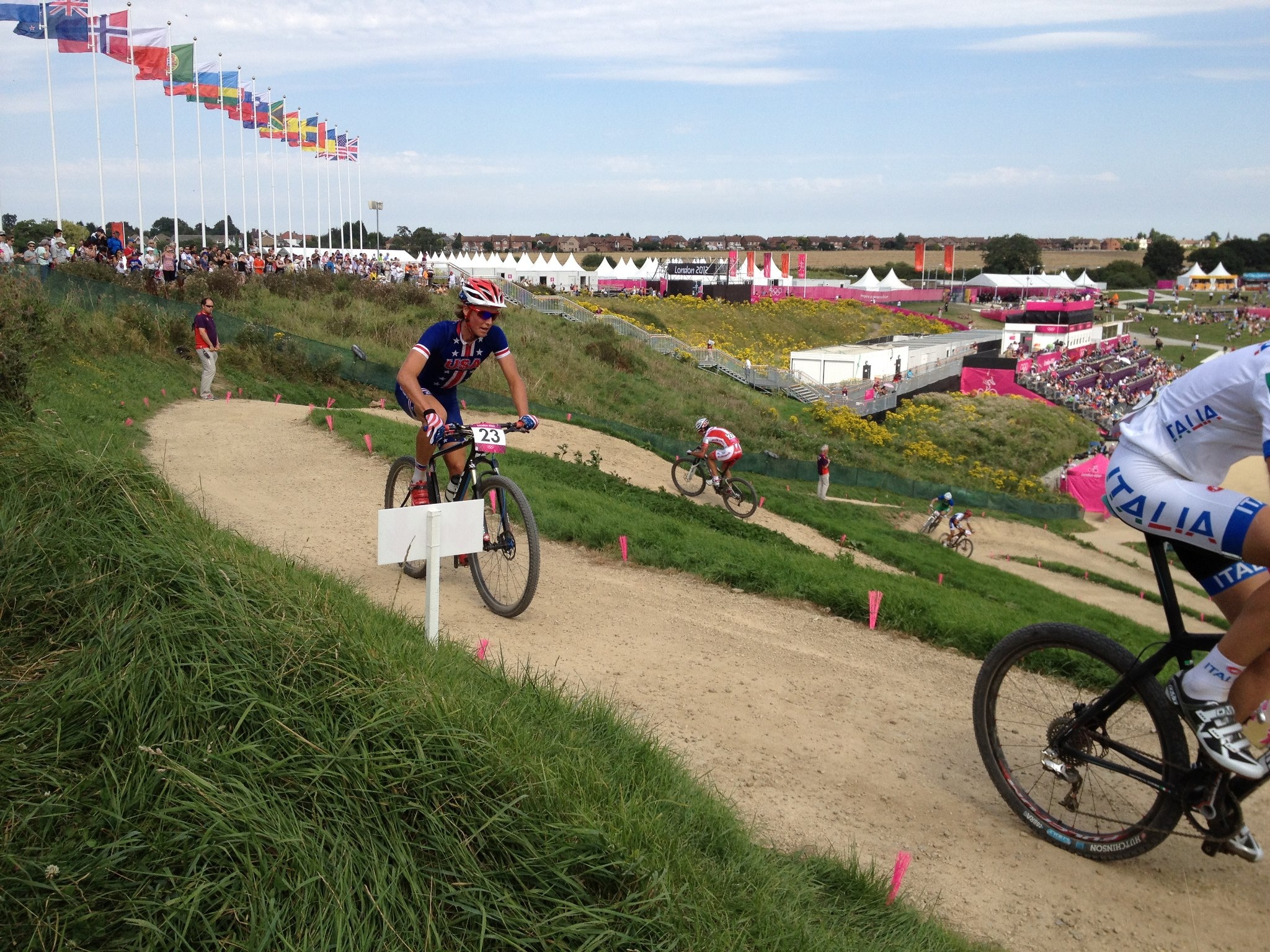 First time Olympin Sam Schultz rode an intelegent race, working his way from the late 20's up to 15th at the finish. The recently crownd National Champ from Montana has huge potential in the Olympics to come.
Stay tuned for videos and full recap from the Games!
Results
Result
1
Jaroslav Kulhavy (Czech Republic)
1:29:07
2
Nino Schurter (Switzerland)
0:00:01
3
Marco Fontana (Italy)
0:00:25
4
Jose Antonio Ramos (Spain)
0:00:29
5
Burry Stander (South Africa)
0:00:30
6
Carlos Nicolas Coloma (Spain)
0:01:00
7
Manuel Fumic (Germany)
0:01:24
8
Geoff Kabush (Canada)
0:01:36
9
Alexander Gehbauer (Austria)
0:02:09
10
Todd Wells (USA)
0:02:21
11
Stephane Tempier (France)
0:02:23
12
Jan Skarnitzl (Czech Republic)
0:02:41
13
Gerhard Kerschbaumer (Italy)
0:02:55
14
Ondrej Cink (Czech Republic)
0:03:09
15
Samuel Schulz (USA)
0:03:22
16
Marek Konwa (Poland)
0:03:34
17
Rudi Van Houts (Netherlands)
0:03:46
18
Ralph Naef (Switzerland)
0:03:51
19
Kevin Van Hoovels (Belgium)
0:03:54
20
Karl Markt (Austria)
0:04:11
21
Daniel McConnell (Australia)
0:04:15
22
Sergio Mantecon (Spain)
0:04:39
23
David Rosa (Portugal)
0:04:43
24
Rubens Valeriano (Brazil)
0:05:16
25
Florian Vogel (Switzerland)
0:05:29
26
Andres Soto (Argentina)
0:06:06
27
Kohei Yamamoto (Japan)
0:06:19
28
Hector Paez Leon (Colombia)
0:06:55
29
Jean-Christophe Perraud (France)
0:08:00
30
Marc Bassingthwaighte (Namibia)
0:08:10
31
Sergiy Rysenko (Ukraine)
0:08:25
32
Piotr Brzozka (Poland)
0:09:30
33
Periklis Irias (Greece)
0:09:44
34
Moritz Milatz (Germany)
0:09:52
35
Philip Buys (South Africa)
0:11:04
36
Paolo Cesar Montoya (Costa Rica)
0:12:12
37
Evgeniy Pechenin (Russia)
0:12:33
38
Chun Hing Chan (Hong Kong)
0:12:52
39
Adrien Niyonshuti (Rwanda)
0:13:39
40
Marios Athanasiadis (Cyprus)
0:14:18
41
Weisong Tong (China)
-1 Lap
42
Derek Horton (Guam)
-1 Lap
DNF
Sven Nys (Belgium)
DNF
Max Plaxton (Canada)
DNF
Andras Parti (Hungary)
DNF
Julien Absalon (France)
DNF
Liam Killeen (Great Britain)
DNS
Robert Forstermann (Germany)
DNS
Michael Vingerling (Netherlands)
DNS
Sam Bewley (New Zealand)
Updated on May 19, 2013, 8:44pm