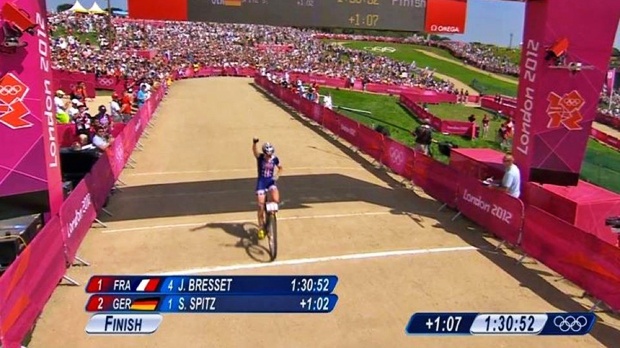 France's Julie Bresset rode the race of her life this afternoon outside of London, England to win the Gold medal at the 2012 Olympic Games! She separated herself from the lead group of three at the time which included Germany's Sabine Spitz and the USA's Georgia Gould. Spitz took a hard crash on one of the courses many technical drops, holding up Gould in the process and giving Bresset a gap she would hold to the finish line.
Georgia's Olympic medal marks a historic day for USA's Mountain Biking. The American was considered an outside chance by many but was in contention at the front of the race from the gun. Her USA teammate Lea Davison had a very solid ride against the 30 best women in the world to finish 11th.
For the Canadian women it was not the race many thought it would be. Both Catharine Pendrel and Emily Batty will no doubt be disappointed by their performance here today. Pendrel, the reigning World Champion, and overwhelming favorite for Gold, seemed to struggle to find her rhythm from the start, and eventually faded back to 9th place at the finish. Likewise, Emily Batty, racing on a fractured collarbone she suffered in training, missed the moves on lap one and spent the entire race trying to move her way through a very strung out field. She could not close the gap and finished the day in 24th, almost 10 minutes down.
Stay tuned for a full report, photos, and video interviews with the riders!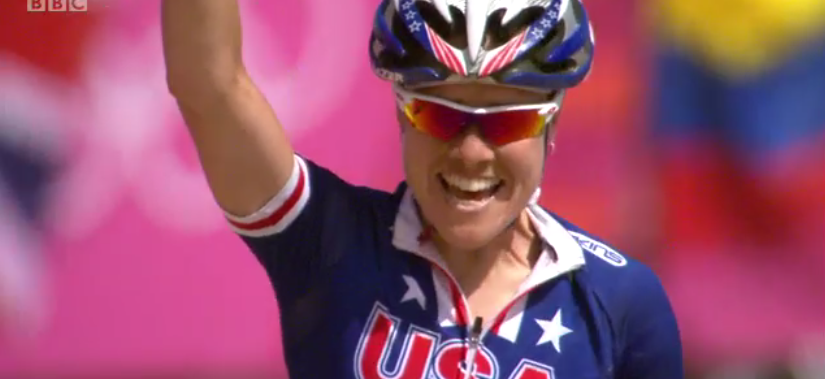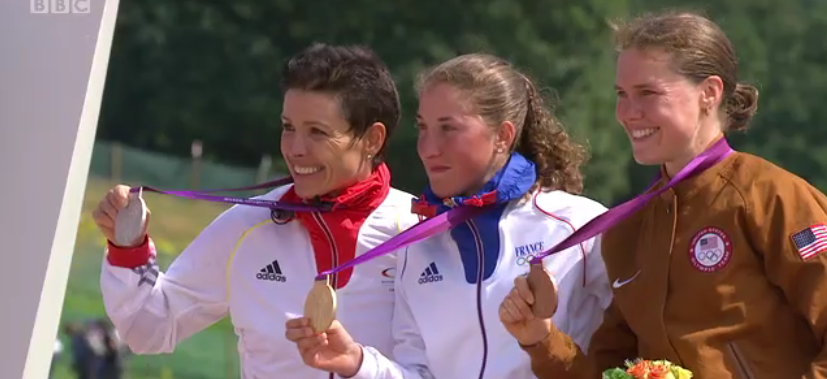 Full Results
Result
1
Julie Bresset (France)
1:30:52
2
Sabine Spitz (Germany)
0:01:02
3
Georgia Gould (United States of America)
0:01:08
4
Irina Kalentieva (Russian Federation)
0:01:41
5
Esther Suss (Switzerland)
0:01:54
6
Alexandra Engen (Sweden)
0:02:16
7
Aleksandra Dawidowicz (Poland)
0:02:28
8
Annie Last (Great Britain)
0:02:55
9
Catharine Pendrel (Canada)
0:03:36
10
Tanja Zakelj (Slovenia)
0:03:49
11
Lea Davison (United States of America)
0:04:22
12
Qinglan Shi (People's Republic of China)
0:04:36
13
Yana Belomoyna (Ukraine)
0:04:54
14
Katerina Nash (Czech Republic)
0:05:30
15
Elisabeth Osl (Austria)
0:05:55
16
Adelheid Morath (Germany)
0:06:25
17
Eva Lechner (Italy)
0:06:44
18
Karen Hanlen (New Zealand)
0:07:02
19
Katrin Leumann (Switzerland)
0:07:31
20
Rie Katayama (Japan)
0:07:34
21
Janka Stevkova (Slovakia)
0:08:13
22
Paula Gorycka (Poland)
0:08:26
23
Blaza Klemencic (Slovenia)
0:08:50
24
Emily Batty (Canada)
0:09:45
25
Rebecca Henderson (Australia)
0:10:43
26
Pauline Ferrand Prevot (France)
0:11:29
27
Barbara Benko (Hungary)
0:12:32
28
Candice Neethling (South Africa)
0:14:11
DNF
Gunn-Rita Dahle Flesjaa (Norway)
DNF
Laura Valentina Abril Restrepo (Colombia)
Updated on May 18, 2013, 2:33pm