[UPDATE: Jaroslav Kulhavy won today's Olympic MTB event in the UK! The World Champion can now add an Olympic Gold Medal to his resume! Check out this 'spotlight' we did on Jaro leading up to the games and stay tuned for full coverage from today's event!]
___________________________________________________________________________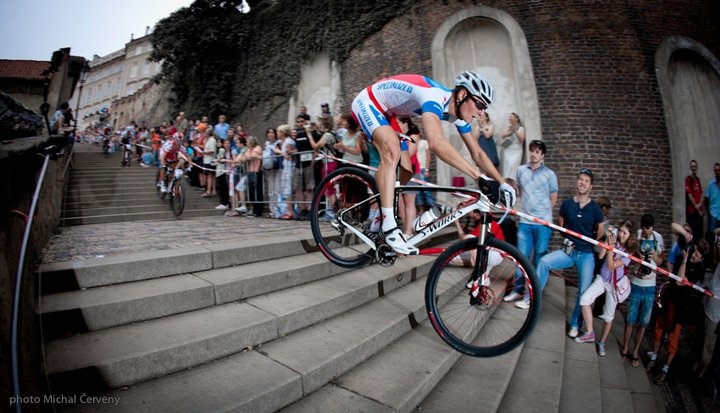 The 27 year old Czech rider exploded into form during the 2011 season, winning World Cup after World Cup. Jaro, as he's known, started to turn heads as a U23 and was quickly identified as the future hope for Czech mountain biking. He represented in Beijing at the 2008 Olympic, finishing 18th.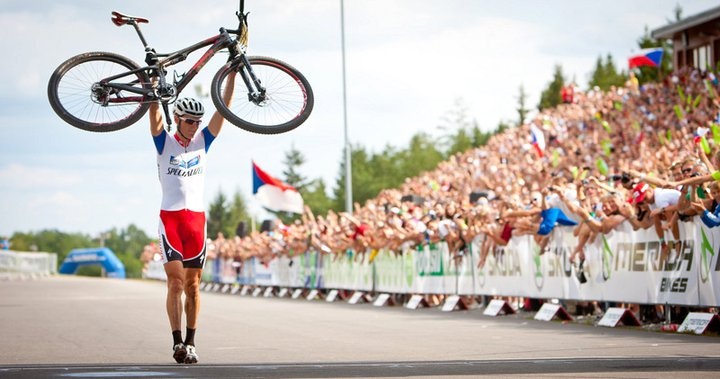 He dominated the 2011 World Cup season, winning nearly every event he entered. While Czech fans knew him well, much of the mountain bike world was shocked at his year to year turn around from podium contender to unbeatable.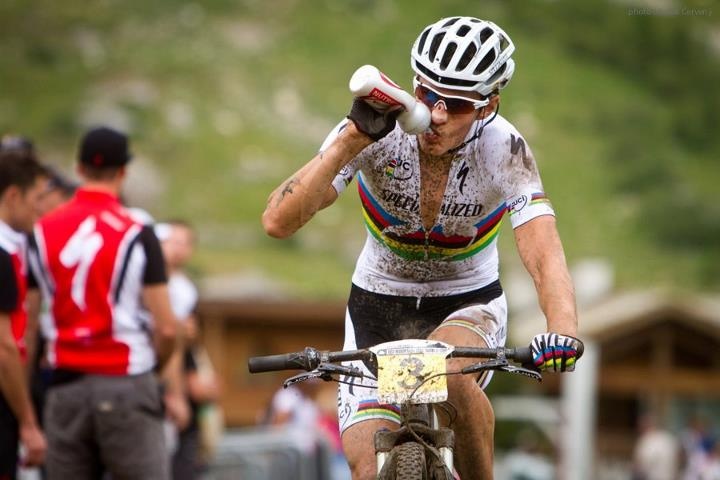 Jaro capped off 2011 by winning his first World Championship title, instantly making him the favorite for Gold in London.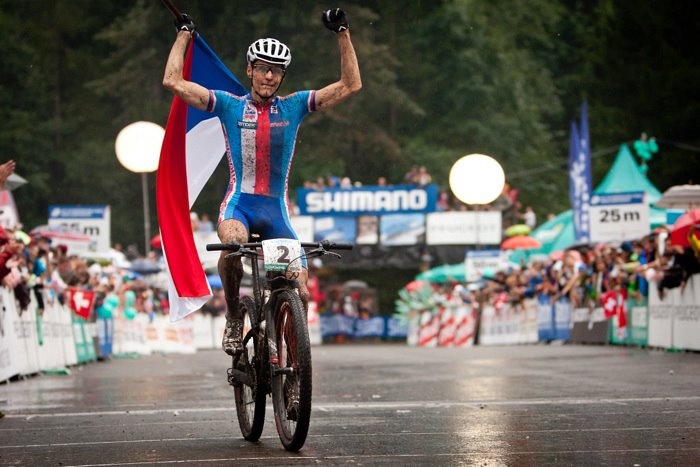 Crossing the line on his Specialized Epic 29er.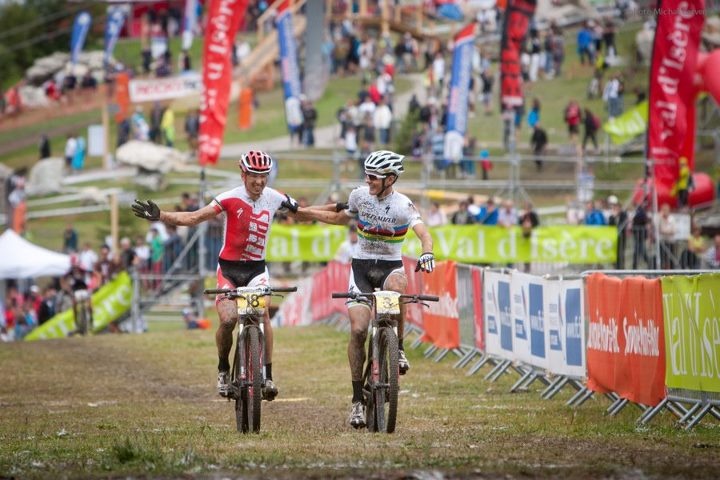 Kulhavy has been fortunate to be able to develop as a member of Team Specialized, one of the best programs of all time. He and South Africa's Burry Stander have had great veteran support from the likes of former World Champ Christoph Sauser. (seen above, Jaro and Susi cross the line together in what was likely the Swiss rider's final XC World Cup.)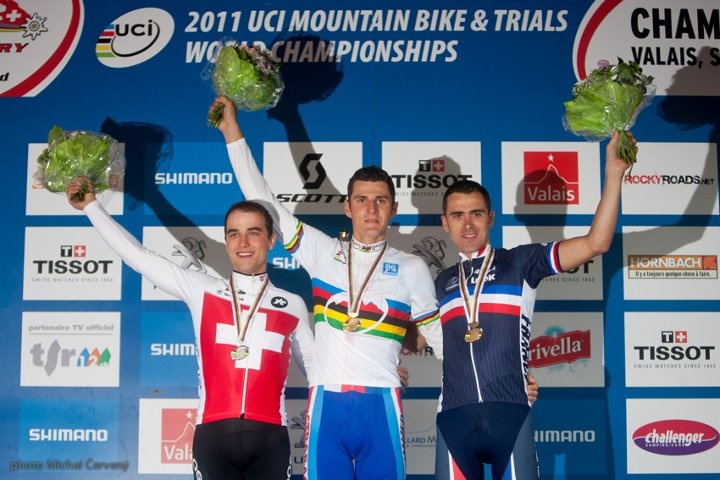 Kulhavy has been the only man over the past several years consistently able to beat Julien Absalon (right), the 2004 and 2008 Olympic Champion, and Nino Schurter (left), the 2009 World Champion.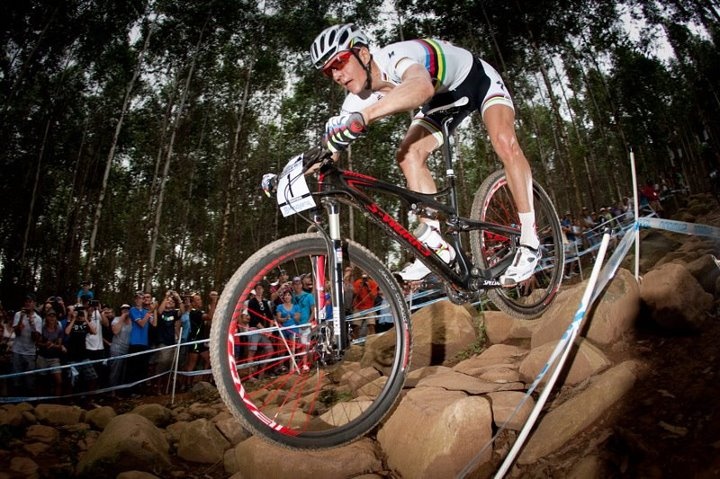 With many of the top European riders still riding 26in. Hard Tails, Kulhavy has made the Specialized Epic 29er full suspension his race bike of choice. His size large Epic reportedly weighs in under 20 pounds.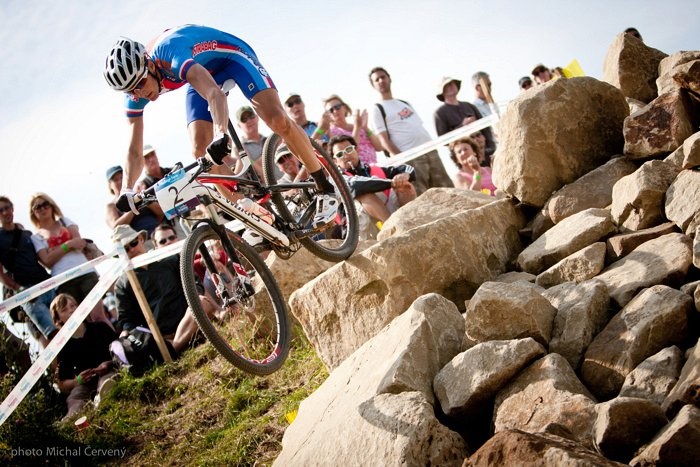 Jaro hitting the A line on the London Olympic race track. He finished fourth here at the test event held in 2011.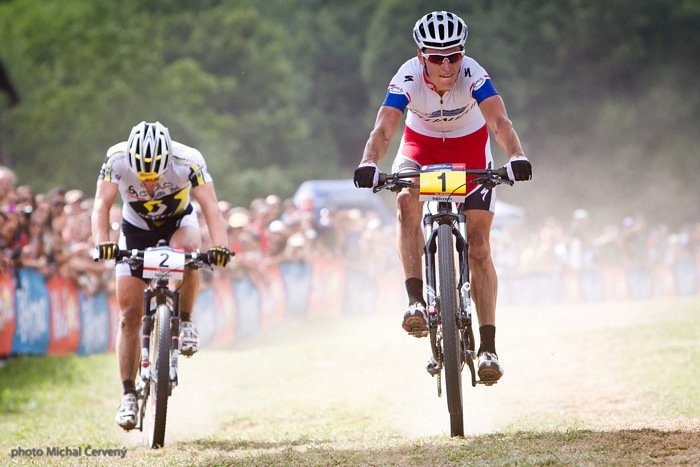 Jaro heads to the Olympic Games as a co-favorite with Absalon and Schurter. While he beat them both with ease last season, these past few months have been a different story. Schurter is fresh off a series of World Cup wins over Kulhavy that saw the Swiss rider claim the 2012 World Cup overall. If Jaro is to take Gold in London, he'll need to first find his form from 2011.
Personal facts
Date of birth: 8.1.1985
Height: 187
Weight: 76-79 kg
Team: Specialized Factory Racing
Partners: Dukla Praha, Nutrend, Seat
Achievements
2011 UCI XC World Champion
2011 World Cup Overall Winner
2010 National Champion in MTB Marathon
2010 European Champion
2010 World Championship Silver Medal
2010 3rd place at World Cup (overall ranking)
2009 9th place at World Cup, Australia
2008 11th place at World Cup, National XC MTB Champion, 10th place overall in World Cup
2008 18th place in Olympic Games, Beijing
2007 3rd place at World Cup (U23), 2nd place at European Championship (U23)
Updated on May 18, 2013, 7:11am