I was recently given the chance to visit Felt Bicycles while I was in Los Angeles for CXLA. Being a huge gear head and a fan of Felt I was happy to make the drive to Irvine.
In 1994 Jim Felt set out to start a bike company that was more about function then form. Jim made one-off frames for select athletes. Moving fast Felt made it a goal to have their bikes in the Pro Tour and by the early 2000's Garmin-Chipotle was riding the F-Series in The Tour. Jim had a passion for using new materials, but only if they were appropriate. Fast forward to today Felt is still using cutting edge materials to make the fastest bikes possible.
As we made our way through Felt's HQ framed jerseys and World championship winning bikes lined the hallways. My 'tour guide' and Felt Brand Manager, Skyler Wallace, took us in every office to talk to each employee that was a necessary cog in the Felt machine. You immediately get the sense that everyone is a real cyclist enthusiast. Most offices looked more like a garage with bikes leaning against walls and parts on any surface that had space for them. There were no rooms full of engineers focusing on clothing or bar-tape. No round tables with marketing gurus thinking up new words and phrases to slap on a downtube. Everyone was focused on one thing - producing the best bikes possible.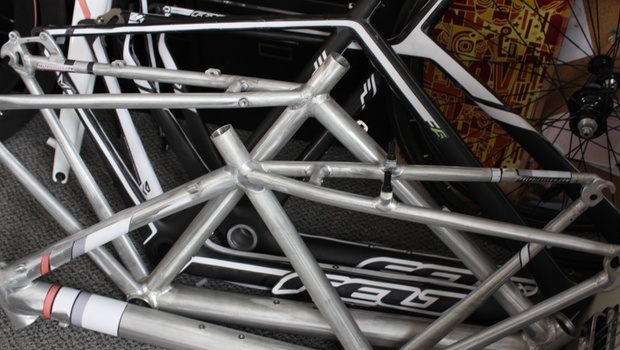 Just a couple CX frames laying in an office.

More Photos Here


We made our way down to the shop where Anton Petrov, an engineer at Felt, was making some adjustments to his personal bike before racing in the Elite field at CXLA. A huge table in the center was full of bisected prototype 2013 Nine FRD frames and the 3D printed models that preceded the carbon prototypes. The 3D models are printed in 3 sections and then joined together with a puzzle joint. These models allow for designs to be printed quickly and parts test fitted. The Nine FRD is using a new form of carbon fiber called Textreme. Textreme uses thinner strands of fiber that allow for a lighter and stiffer frame while still being able to handle trail abuse.


Felt is currently in the process of designing and testing their 2014 bikes. Hints of what is coming out was all over, unfortunately I was asked to not photograph any of it. I can say that they are embracing 650b and new materials for their FX line of cyclocross bikes.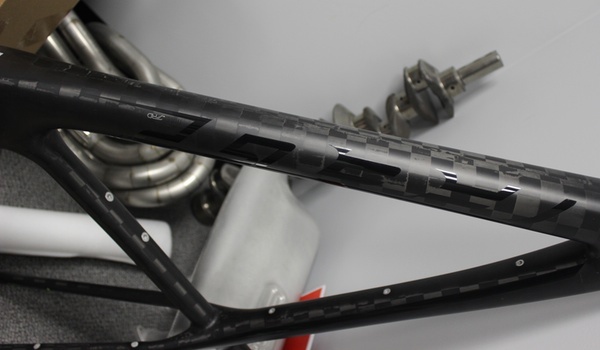 Another Nine FRD Frame. Taken out of the shot was a 2014 frame that I was sworn to not mention.

In the back of the shop are several bike torture devices used to test frame and fork strength. A frame vice is used to hold the frame tight as it is torque on from all directions. Another contraption tests the impact resistance of forks. Testing parts is a serious endeavor for any of the big manufactures.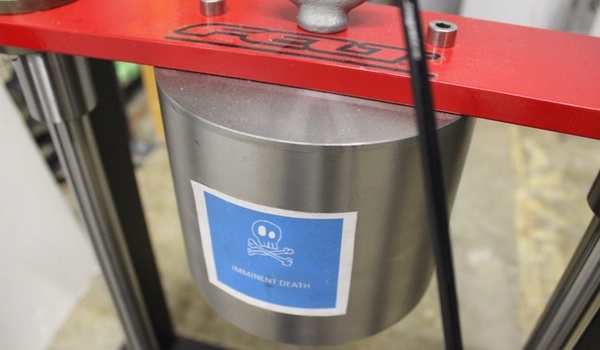 Remove all body parts before use.

Felt still has the free-thinking attitude of a small company with it's ability to move fast on bold decisions. Seeing the increase in popularity of cyclocross in the U.S., felt completely redesigned their FX line. Coming out with six new models just a few years ago, half of which are disc-brake equipped. We are excited to see what Felt has in the books for the dirt scene in the coming years.