Kona Factory Team elite racer and seven-time British National Champ Helen Wyman will return to Baltimore this weekend to defend her two wins at last year's race. French, Belgian and British compatriots will line up with Wyman in the UCI 2 races vying for the podium against a talented American field.
Baltimore, MD (September 19, 2012) --- The crossers are coming! The crossers are coming!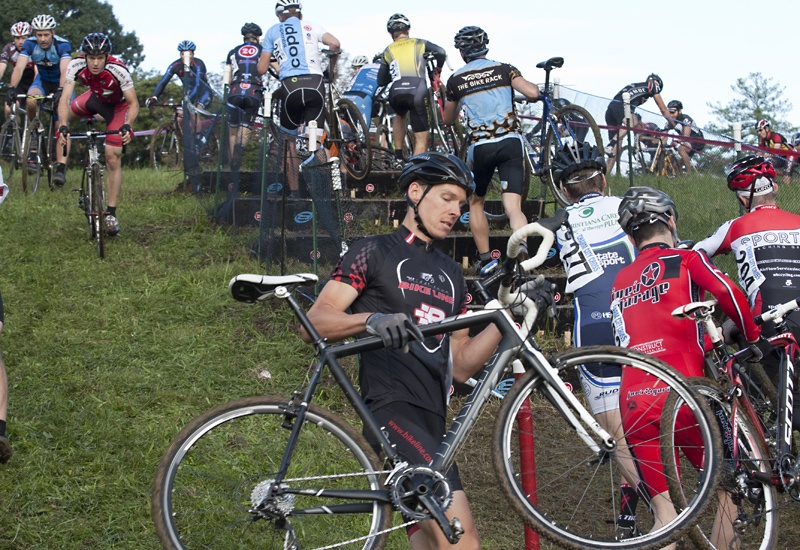 Get your cowbells out. Over 1200 elite and amateur races from near and far have already registered for this weekend's Charm City Cyclocross race, sponsored by Hampden's Twenty20 Cycling Company.
For the uninitiated, cyclocross is a cycling discipline that involves racing mainly on grass, sand, and gravel with occasional dismounts and remounts to clear manmade and natural barriers. Racers compete on bikes similar to road bikes but with subtle modifications that enable them to traverse the tricky terrain.
Since it's first incarnation in 2005, the race has grown dramatically to become one of the most well-attended and beloved races on the east coast. Located in Druid Hill Park, the race draws crowds of spectators and boasts a course that will make your heart shoot out of your jersey and sand pits that will have you rinsing sand out of your chamois for weeks.
In addition to an awesome venue and course, Charm City's success can be attributed to the hardcore support from Charm City Cycling, the team who organizes the race under the guidance of Director Kris Auer who owns Twenty20 Cycling Company in Hampden. The race was born out of C3 (Charm City Cycling) members' passion and guided by Auer into what it is today.
Increased sponsorship has also nurtured the event, with sponsors like Bikereg.com and Champion Systems lending their support. The 2-day race, part of the 8 race Mid-Atlantic Series, benefits from new presenting sponsor Fuji Bikes.
Auer and other MAC promoters are thrilled with series' new relationship with Fuji Bikes who will provide one frameset per event and 2 carbon framesets for the overall series winners in the women's B (3 /4 ) and men's B (2 /3) categories. One lucky registered rider in a non-UCI series race will be randomly selected to win a frameset.
"With increased sponsorship from Fuji Bikes, Race Clothing and Bikereg.com and a strong UCI presence in the Mid Atlantic, the MAC offers a unique opportunity for regional, national and international racers to test themselves on some of the finest courses on the US circuit," Auer said.
The international appeal is no exaggeration.
British compatriots Helen Wyman and Ian Field will line of to defend their 2011 wins, competing against strong Belgian, French, and of course, American contenders. In the men's elite race, expect a strong showing from SEAVS/Haymarket which includes last weekend's Nittany day 2 winner Jared Nieters. Also, Flavien Dassonville and Nicolas Bazin of the French BigMat Auber squad should challenge Field for the podium.
In the women's race, MAC legend Laura Van Gilder (Mellow Mushroom) is always a threat and Baltimore's own Laura Murray (Race Pace/Trek MTB team) is showing signs of delivering a super season.
Racing in Druid Hill Park begins at 9am and ends at 4pm. Bring the kids their bikes or trikes and sign them up for the Lil' Belgians race. They'll get a chance to scoot around through the sand and grass just like the big people.
Spend the day cheering or competing. You won't know if you're in Baltimore or Bruges.
The 2012 MAC Series Presented by Fuji Bikes Schedule:
ï'· Nittany Cross, day one: Sept 15
ï'· Nittany Cross, day two: Sept 16
ï'· Charm City Cross, day one: Sept 22
ï'· Charm City Cross, day two: Sept 23
ï'· WhirlyBird 'Cross: Sept 29
ï'· HPCX : Oct 28
ï'· FSVS CX (Fair Hill): Nov 10
ï'· Limestone Cross at the Kiln: Dec 9
Updated on May 15, 2013, 11:26pm