The UCI cyclocross kickoff weekend concluded today at Ellison Park in Rochester, NY. Helen Wyman and Nicolas Bazin each took their second win of the weekend.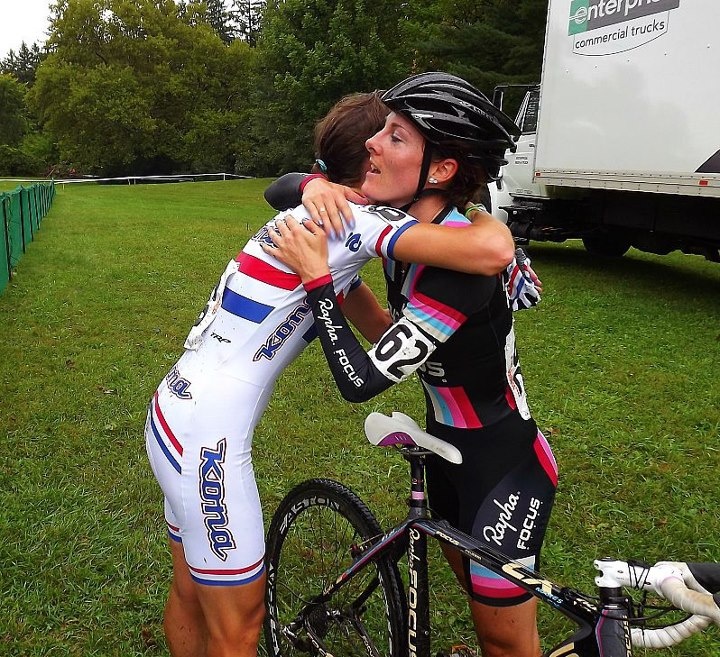 British riders Helen Wyman and Gabby Day went 1, 2 at Ellison Park.
Wyman, from Great Britin, looks to be on another season of great form and hopes to continue her winning ways in the USA before heading back to Europe for the World Cup season. Both Wyman and Gabby Day will compete in the North East next weekend before heading to Nevada for CrossVegas. Nicole Thiemann made the jump to third to take the final step on the podium.
1 Helen Wyman (GBr) Kona Factory Team 0:41:53
2 Gabriella Day (GBr) 0:01:15
3 Nicole Thiemann (USA) Team Cf 0:01:28
4 Joyce Vanderbeken (Bel) Decock-Sportivo Moorsele 0:01:45
5 Patricia Buerkle (USA) 0:01:53
6 Arley Kemmerer (USA) C3-Athletes Serving Athletes 0:02:47
7 Kathleen Lysakowski (USA) Cycle Lodge 0:03:03
8 Julie Lafreniere (Can) Stevens Racing P/B The Cyclery 0:03:15
9 Frances Morrison (USA) J.A.M. Fund/Ncc 0:03:39
10 Brittlee Bowman (USA) Crossresults.Com 0:04:13
11 Molly Hurford (USA) Colavita Racing 0:04:18
12 Erin Silliman (USA) Corsa Concepts Cyclocross Team 0:04:28
13 Jamie Gilgen (Can) Kallisto / Wheels Of Oakville 0:05:18
14 Rosanne Van Dorn (USA) Team Placid Planet 0:06:00
15 (-1 lap) Jessica Hayes Conroy (USA) North American Velo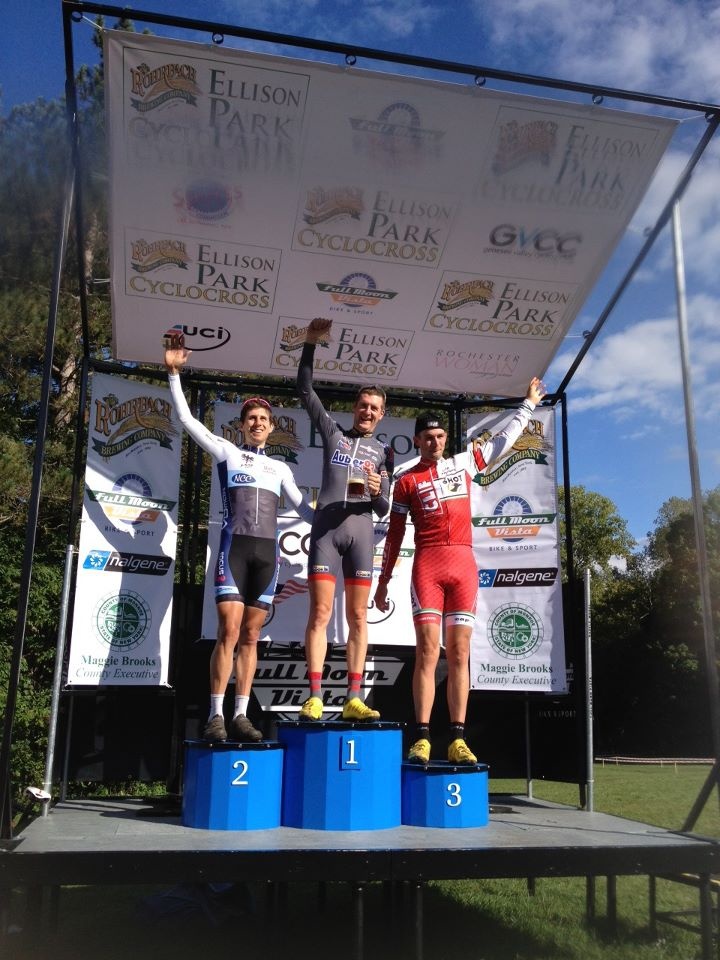 Bazin of France made it 2 for 2 in Rochester while Durrin and Wells made the podium on day two.
French rider Nicolas Bazin followed Wyman's lead and did the double at Ellison Park. The story of the day was Jeremy Durrin, the Sausage King of New England, who had a career day to finish second in the UCI C2 event. Saturday's runner up, Jonathan Page, had trouble Sunday and could manage only seventh at the finish.
1 Nicolas Bazin (Fra) 0:57:38
2 Jeremy Durrin (USA) 0:00:27
3 Troy Wells (USA) 0:00:28
4 Craig Richey (Can) 0:00:30
5 Justin Lindine (USA) 0:00:47
6 Shawn Milne (USA) 0:01:22
7 Jonathan Page (USA) 0:01:50
9 Robert Marion (USA) 0:01:51
9 Anthony Clark (USA) 0:02:09
10 Chase Dickens (USA) 0:02:40
11 Christian Favata (USA) 0:02:49
12 Dan Chabanov (USA) 0:03:13
13 Greg Wittwer (USA) 0:03:18
14 Stephen Cummings (USA) 0:04:21
15 Paul Mesi (USA) 0:04:37
16 Andrew Reardon (USA) 0:04:44
17 Bryan Fawley (USA) 0:06:15
18 Jordan Villella (USA) 0:06:20
19 (-1 lap) John Proppe (USA)
20 Evan Huff (USA)
21 (-2 laps) Geoffrey Bouchard (USA)
22 Donny Green (USA)
23 (-3 laps) Donald Cumming (USA)
DNF Wyatt Stoup (USA)
DNF Flavien Dassonville (Fra)
DNF Adam St. Germain (USA)
DNF Cory Burns (USA)
DNF Ernesto Marenchin (USA)
DNF Dan Timmerman (USA)
Updated on May 13, 2013, 2:56am