American mountain bike racing hit the scene hard in the mid 80s, but recently the race weekends that were once synonomous with heaven have taken a decline in popularity. After getting let down one to many times by these modern races I sit here on my way to another weekend hoping that USA Cycling can pull off a stellar event for Nationals in Sun Valley, ID.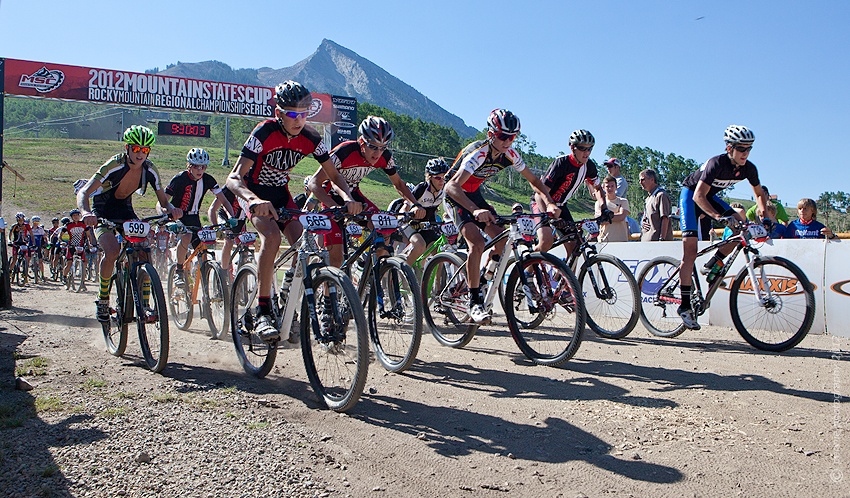 After talking to some of the guys on the Team Clif Bar mountain biking. I was able to understand the key ingredients for a great event. Brady Kappius claims it's the spectators, while Troy Wells goes a little broader by saying that it needs to be an event not just a few races with a few spectators. This statement is coming from a cross guy that races the whole USGP series.
For those of you that are not to familiar with the USGP series—it is a bunch of awesome Cyclocross races! Every USGP stop is a full weekend with food trucks, free beer, blow up doll hand ups, and other silliness. According to Troy Wells, "If American mountain biking could just learn a thing or two from Cross we would see a huge popularity rise in mountain biking" Troy also brought up the point that all pros have to go to UCI races. That is where the points are, that is where everyone else is.
In mountain biking the UCI races are separate from the fun events like the Iceman or the Whiskey 50 (two events that people have told me are awesome). In Cross every USGP race is a UCI race as well as a rockin party. So ATTENTION: All mountain bike promoters/race organizers pinch some ideas from these crazy Cross people and put on a race that is fun for top pros as well as the average Joes.
When I asked Troy why a race like Iceman don't try to get the UCI on board to combine the races that pros have to do and the races that are a blast to do he said "they don't have a lot to gain from it" so where's the problem? The UCI—they need to realize in order for race promoters to put on a race that is good for the development of North American pros as well as their local average Joes they have to start approaching these popular races and trying to get on board with races like the Iceman.
Brady Kappius got more specific—without spectators a race can't be event. At a race the both of us were at a few weeks ago there was no water at the venue (the field they called a venue). Without the necessities like food and water (beer) why would people even consider coming to watch a race. There needs to be something fun that extends the schedule. For example At Crankworx in BC they had a ride across a lake on a 2X4 competition. Events like this will leave a lasting impression on everyone witnessing it—both racers and spectators alike. Next year the event will be bigger because the footage will be shared and everyone at last years will tell their friends.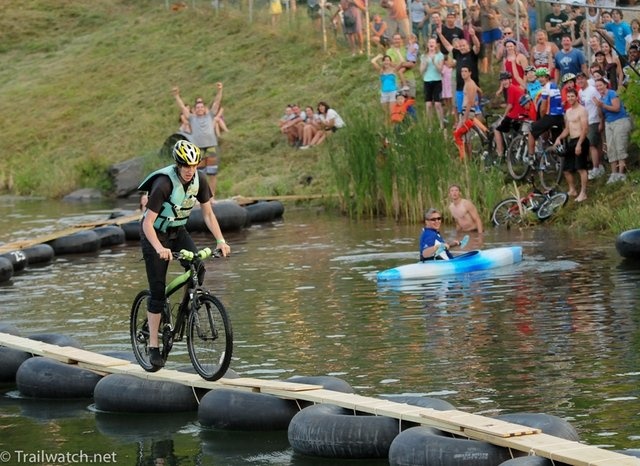 At the races I've been to so far this summer, I've immediately picked up on the inequality when it comes to the promotion, celebration, and rewards of a men's race versus a women's race, in all categories. I've heard about it before – my female coach at Warren Wilson College, Cass Perkins, raced pro a few years ago. She will always say how she is blessed to never run out of socks. As the men collected hefty prizes, her sock drawer overflowed. [disclaimer: Socks do not have the best re-sale value]. At a nationally sanctioned race, I was peeved to notice that first, second, and third place finishers of the Cat 1 19-24 men's race all received prizes (cash, if I recall correctly), while only the first place finisher of the Cat 1 19-24 women's race received a prize. After asking around about this apparent mistake, a friend of mine was given the reasoning: "it's all about the field sizes." I was left wondering whether or not it was the second and third place women's fault that their field was smaller than the men's field.
If I were the race promoter I would seek out companies that specifically target athletic females to sponsor the women's race. By separating the sponsors I believe I could create an event that would be entirely equal. In the field sizes, the prizes, and the spectators. The top women deserve equal rewards for their efforts. If we can collectively make this a priority more women will be attracted to the sport and more race fees/sponsor dollars will come flowing in. It's a win-win!
Why do we need the incentive of raffles and prizes? For me, I would be satisfied with a photo of me on the podium to share among my Facebook friends until they started to get annoyed. To quote my boss, "we are not kids who need a toy with our happy meal" from this I can stem in a few directions. Why the F#$% do fast food restaurants give incentives for kids to eat horrible food? We want prizes because we pay money for the opportunity to race against friends, foes, and strangers, when we win we want to hold something substantial (i.e. not a bottle opener). Something that justified spending a ton of money for gas, food, race fees, hair gel, leg wax—not to mention putting ourselves into a temporary grave to pull to the top few spots before the finish line.

There is no question aspects of American mountain biking have taken great strides in the last twenty years, but that doesn't mean we can just sit up. There is no one else to move forward and take the pull. We as mountain bike racers need to stand up for what we want to see in the race weekends that were once our prized possession. I say we bring back the heyday of mountain bike racing.

As always,
Huck your meat down some single track!
The Dirtbag!
Updated on May 19, 2013, 1:59am