I have heard that starting off a trip with a setback gives you good luck for the rest of the journey, but what about when that setback leaves you without a training partner?
Sean and I set out from Knoxville, Tennessee with the intention of making it to Kansas City for the first night. After six or so hours of driving we approached St. Louis. Sean asked if I wanted to go check it out. Enamored by the giant arch I demanded we stop. If only I knew what was around the corner.
After doing the normal tourist things around the arch (pretend to be in a Crossfit class, urban slack-lining, and challenging cars to a footrace) we made our way back to the van. We hadn't ridden that day so we decided to spin our legs out.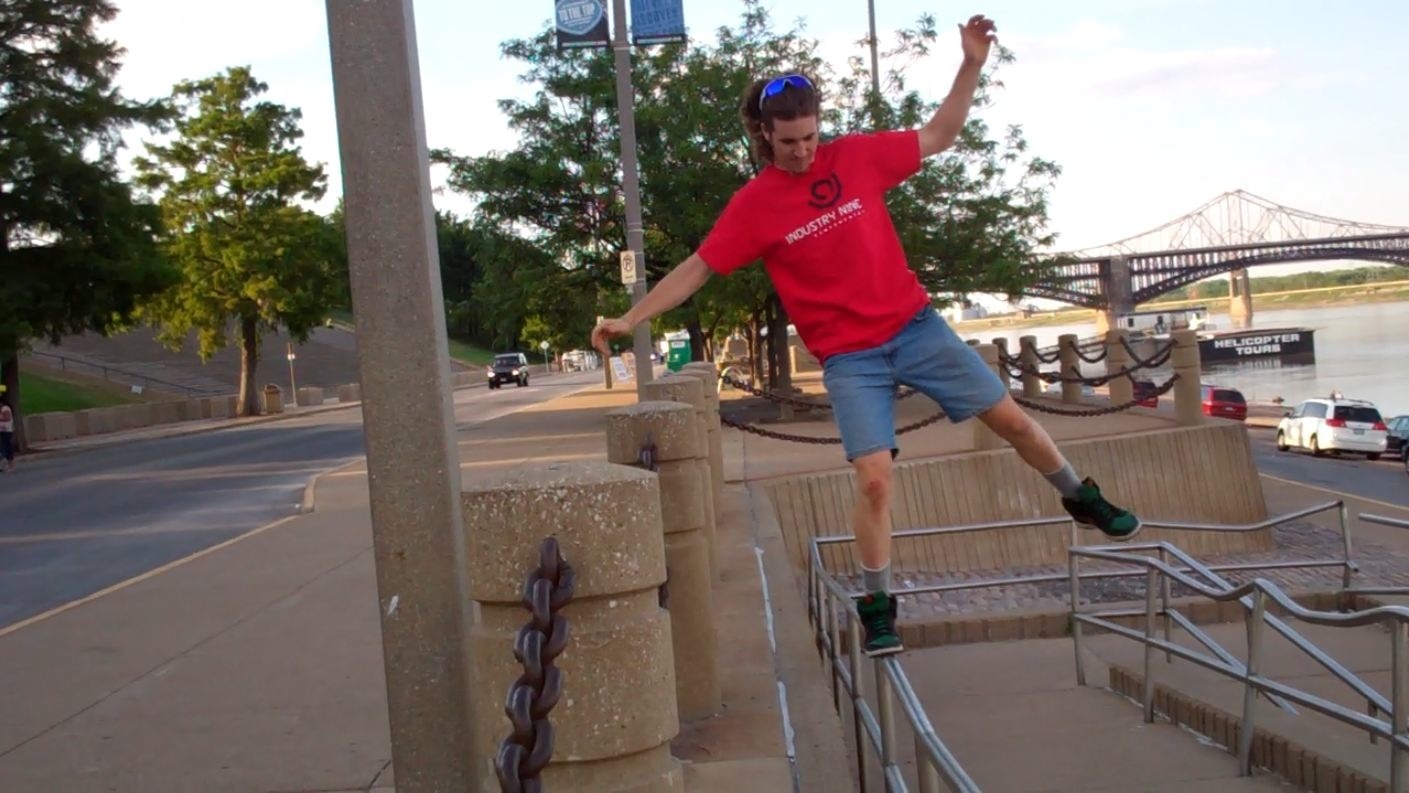 We went on this awesome ride down the greenway along the Mississippi. We wove through junkyards, construction sites, and factories. This trip is all about riding in the big alpine wilderness at ten thousand feet of elevation not shooting through decrepit industrial buildings, but there was something wild about this ride. Perhaps it was the adventure of it that flipped my switch. Whatever it was that excited me, we were off on our first ride of the journey.
To spice things up I suggested we turn off the greenway and head back to the van via the mean streets of St. Louis. For those keeping count this was the third bad idea I had. We rode through some traffic, which was awesome (reminded me of home). For those of you that don't ride in city traffic, just imagine mountain biking on a techy trail where the boulders and trees move.
We were less than a mile from the van when smiles turned to frowns. I hopped over a curb. As I did it I thought about how easy it is to mess up when you are going fast. Just as my concessions cleared I heard a smack and looked behind me to see Sean mid flight. He was horizontal to the ground and around four feet above the pavement. His bike was nose down still attached to his shoes.
When I crash my thought process goes: Is my bike ok? Am I broken? Do I need medical care? How long am I out for? As soon as I stopped Sean was back on his feet. Holding half of his handlebar.
In my last column I wrote about how the newest lightest parts aren't always the best. This is an example. Sean's top of the line carbon handlebars snapped mid bunny hop causing the crash that we would later find out dislocated Sean's shoulder—#carbonfail!
Standing there in the middle of downtown St. Louis I was following the directions I downloaded on my phone on how to put back Sean's shoulder. One hand pushed his arm behind him while the other guided the shoulder and held the phone within reading distance. It was a mess. I didn't have the training I needed to reset his shoulder—we needed to find medical assistance.
In a city like St. Louis you would think hospitals are open—ready to take in patients at all times. We called three hospitals/emergency care centers not one was open. Finally after getting a recommendation from a security guard at one of the closed hospitals we found an open emergency room. The first night of the trip was spent ½ in the hospital room and ½ in the van in the parking lot of the East St. Louis hospital. Not exactly Kansas City.
Check out my vidoes from Colorado Springs Pro XCT: http://www.cyclingdirt.org/coverage/249471-Colorado-Springs-PRO-XCT-3-2012

As always,
Huck Your Meat,
The Dirtbag


Updated on May 3, 2013, 12:01am