Today, on the finishing stretch of this weekend's MTB World Cup in Mont Saint-Anne, the Canadian Cycling Association named four riders to the 2012 London Olympic Mountain Bike team.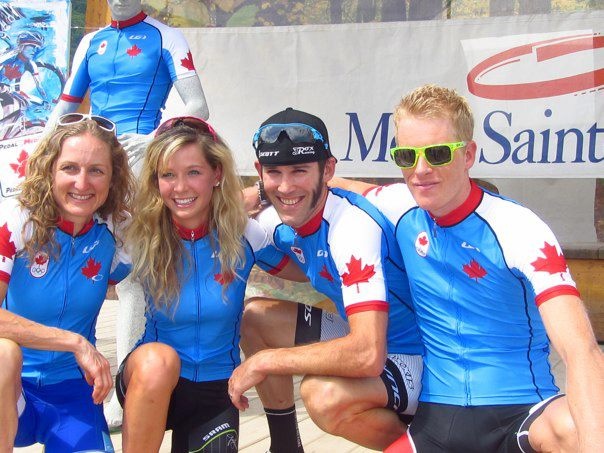 Photo by: Lori Mitchinson-Bailey
(L-R: Catharine Pendrel, Emily Batty, Geoff Kabush, Max Plaxton)
WOMEN
Catharine Pendrel
Emily Batty
MEN
Max Plaxton
Geoff Kabush
Watch the video:
CyclingDirt Breaks down who should go to London.
Full Coverage:
2012 Canadian National MTB Championships
Catharine Pendrel heads to the Games as the defending MTB World Champion and will be North America's best shot at a medal in London.
With a second place at the 2012 World Cup opener in South Africa, Emily Batty has shown she is also capable of a top 3 ride at her first Olympic Games.
Max Plaxton qualified for his first Olympic team with a pair of steller results at World Cup rounds three and four where he finished in the top 10.
Geoff Kabush will return to the Olympic Games for what may be his last shot at a medal. Winner of a World Cup race in 2009, Geoff has shown he can ride at his best when it counts.
Read the report:
USA Cycling Names Four To Olympic Team.
Stay tuned this weekend for full coverage of the Mont Saint-Anne World Cup in Canada. All eight Olympic team riders from the USA and Canada will be lining up with the world's best. Coverage begins Thursday, June 21st.
Updated on May 19, 2013, 1:38pm